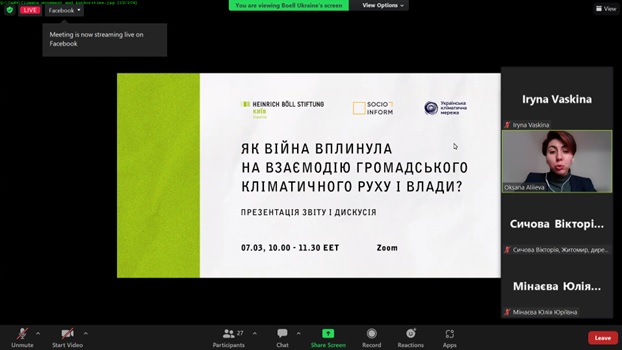 On March 7, 2023, the "EUCLead" team, represented by Iryna Vaskina, head of the NGO "Ecotope", joined the discussion on the interaction of NGOs and authorities on issues of climate change during the war.
The on-line event was organized by the team of the Ukrainian Climate Network and the Heinrich Böll Foundation, which presented the results of a study of the dynamics of cooperation between authorities (national and local) and public activists and non-governmental organizations in 2022 (authors of the study Oksana Khimovych, Nataliya Zaytseva-Chipak, Solomiya Shchutyak and Yevgenia Fau), the vision of the development of further cooperation by both sides is outlined, their mutual aspirations and expectations are reflected.
Representatives of the relevant ministry and local governments (Mykolaiv), members of various public organizations and scientists took part in the discussion. Among the speakers are well-known experts on climate change, whom we had the honor to see also among the speakers of our project – Oksana Aliyeva (coordinator of the "Climate Change and Energy Policy" program of the Heinrich Böll Foundation), Svitlana Krakovska (C.Phys.-Math.Sc., head of the laboratory of applied climatology of the Ukrainian Hydrometeorological Institute of the National Academy of Sciences of Ukraine and the National Academy of Sciences of Ukraine, a member of the Intergovernmental Group of Experts on Climate Change).
You can learn more about the results of the research on the page of the Heinrich Böll Foundation