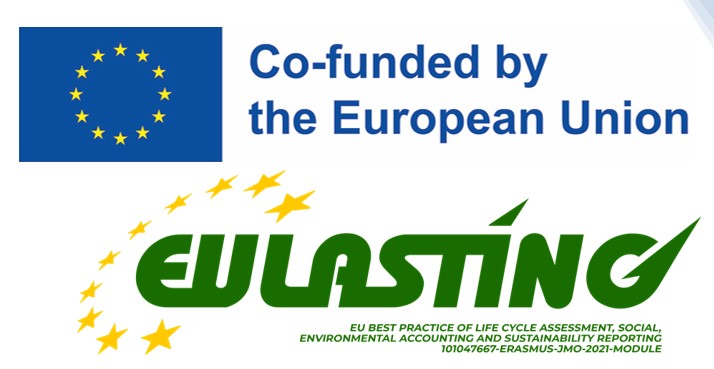 EU BEST PRACTICE OF LIFE CYCLE ASSESSMENT, SOCIAL, ENVIRONMENTAL ACCOUNTING AND SUSTAINABILITY REPORTING
Project #: 101047667 — EULASTING — ERASMUS-JMO-2021-HEI-TCH-RSCH
Project acronym: EULASTING
Project duration: 01 February 2022 – 31 January 2025
EU funding instrument: EU-funded ERASMUS+ Programme, Jean Monnet action
Call: ERASMUS-JMO-2021-HEI-TCH-RSCH
Granting authority: European Education and Culture Executive Agency
Target groups: students, teachers and professors, companies and businesses, active citizens, NGO representatives, policymakers, the wider public.
Objective
The module aims to promote the EU's academic and scientific experience in the field of life cycle analysis (LCA), social and environmental accounting (SEA) and sustainability reporting (SR), thereby contributing to the formation of modern economic thinking among economic professionals in Ukraine, in line with European cultural traditions and challenges of today.
The module aims to raise awareness and bring the rate of sustainability reporting up in Eastern Non-EU Europe and thus to contribute to a more environmentally friendly common future with socially and environmentally responsible businesses. This module is going to promote values inherent in the European Directive on Non-Financial Reporting (EU Directive 2014/95) to the Eastern partnership country Ukraine and build on others, as well as on our own research, to promote these values among student youth (future business and political leaders), the public, business and government circles. Our topic is interdisciplinary and will further develop the dialogue between academia, business and society at large, coalescing bonds between them which will contribute to the further development of a democratic society in Ukraine.