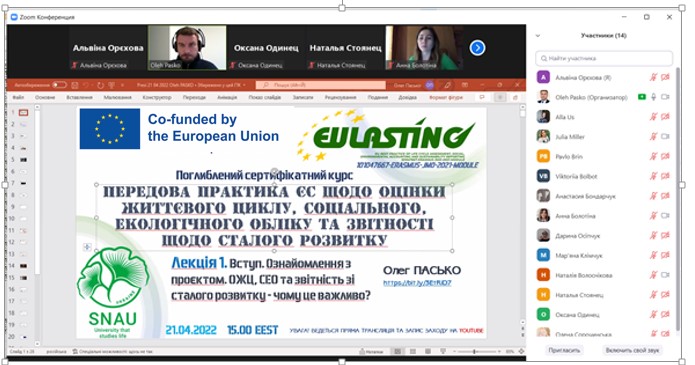 We open AN ADDITIONAL ENROLMENT for an in-depth training course "ADVANCED EUROPEAN PRACTICE FOR LIFE CYCLE ASSESSMENT, SOCIAL, ENVIRONMENTAL ACCOUNTING AND SUSTAINABLE REPORTING"  in a remote form within the EU-Financing Project- EULASTING Project #: 101047667-Erasmus -2021-MODULE.
The course is designed for students of educational levels "Master", "PhD".
Course info: 5 ECTS credits (II semester 2021-2022 academic year).
Start of the course: April 21, 2022
Completion of the course: June 16, 2022
Deadline for additional registration on the course: April 30, 2022.
Form of study: distance interactive Zoom + Moodle
Language: Ukrainian
Charges: free of charge for students. All costs are covered by the EU
Link to registration: https://forms.gle/B9eSTnFzneazkHXt7.
Places are limited. The selection will be made on a competitive basis. You will be notified by enrollment in the appropriate letter.
Our team – LINK
IF YOU WANT TO LEARN TO UNDERSTAND THE ROLE OF THEORY IN RESEARCH, SOCIAL AND ENVIRONMENTAL ACCOUNTING AND KNOW DIFFERENT VIEWS ON CORPORATE SOCIAL RESPONSIBILITY; learn to identify some of the limitations of traditional financial accounting to enable users to assess the social and environmental performance of an entity; demonstrate an understanding of various theoretical perspectives that can be used to explain why organizations voluntarily provide information about their social and environmental performance; apply the basic principles of international and domestic policy in the field of LCA, SEA and reporting on sustainable development; communicate clearly and unambiguously professional knowledge, own justifications and conclusions to specialists and the general public; use European approaches to life cycle assessment and non-financial accounting and reporting; be aware of some of the latest initiatives of the European Commission in the field of LFS, social, environmental accounting and sustainable development reporting YOU CAN JOIN THE COURSE PARTICIPANTS. THE ADDITIONAL ENROLMENT PERIOD LAST UNTIL APRIL 30, 2022.
TO REGISTER FOR THE COURSE, FOLLOW THE LINK AND COMPLETE THE FORM: https://forms.gle/B9eSTnFzneazkHXt7