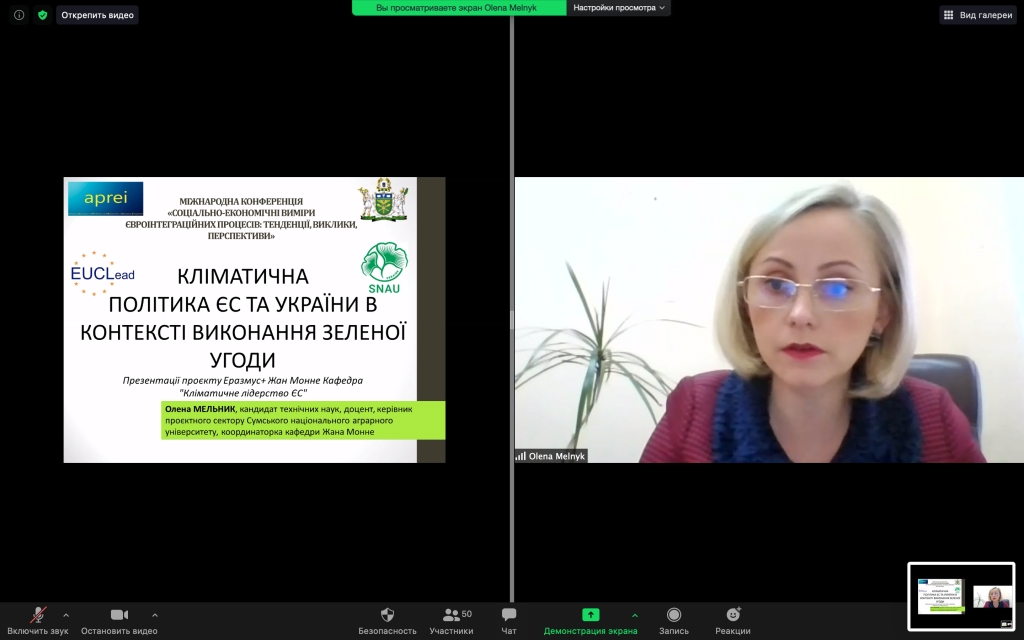 OLENA MELNYK made a report on the topic: "EU CLIMATE POLICY IN THE CONTEXT OF IMPLEMENTATION OF THE GREEN DEAL".
On October 29-30, 2020, the Ukrainian Association of Teachers and Researchers of European Integration together with the Kyiv National University of Trade and Economics and in cooperation with the National Erasmus + Office in Ukraine held an international conference "Socio-economic dimensions of European integration processes: trends, challenges, prospects".
63 Ukrainian and international researchers took part in the conference for two days. During the conference, Olena MELNYK, coordinator of the Jean Monnet Department of Sumy National Agrarian University, made a report on "EU CLIMATE POLICY IN THE CONTEXT OF THE IMPLEMENTATION OF THE GREEN DEAL."
During the presentation Mrs. Olena stressed that an important basis is the promotion of information on climate change and told about the project, which implemented from September 1, 2020 in SNAU and acquainted with the activities within the project for the next 3 years. This is an Erasmus + Jean Monnet project of the EU Climate Leadership Chair, aimed at informing the general public about climate change, countering and adaptation measures.